Next generation Hytech Post and Go at Autumn Stampex 2012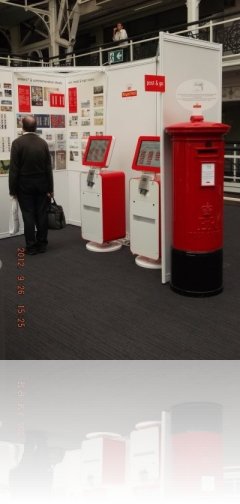 For Autumn Stampex 2012 , Royal Mail unveiled its new 'Hytech V2' Hytech Post and Go kiosks. These are the culmination of the various trial and tests carried out over the last four shows has resulted in a new design of kiosk that can be deployed to various locations- shows etc. The kiosks were sited at the rear of the hall on the upper level – which did cause some intermittent service problems due to mobile signal strength issues (which these units rely on to authorise card purchases) during the show.
As with the previous four Stampex shows, four Hytech machines were in use. Two reserved  for 'Self-Service' use machines- which have now been designated  A1 and A2, were located on the right hand side of the stand. These new 'V2' machines are capable of being  loaded with two reels labels of two different designs, which could then be be selected by collectors.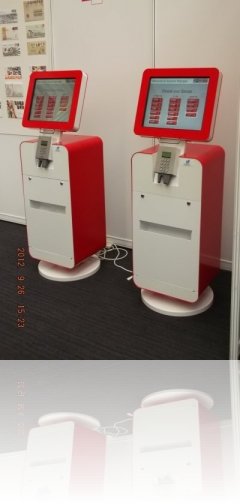 The interior arrangement of the rolls of labels is illustrated in Fig. 3. The third, centre roll of labels produced customer receipts.
At these machines, payments could only be made using a credit card. This arrangement dispenses of the need for complicated cash and change handling within the machine.
Two further machines, designated here as B1 and B2, were located in the back office of the RM stand. Each machine carried only one roll of P&G labels. Those dispensed by these machines were sold over the counter by Royal Mail staff.
During the period of the show, three different label designs were made available — Pigs, Cattle and Flags. The flag design was formally available with the Diamond Jubilee overprint (but see later). The allocation of label designs to the four machines is given in Table 1 below.
| | | | | |
| --- | --- | --- | --- | --- |
| | A1 | A2 | B1 | B2 |
|  Pigs |  Y | Y | Y | Y |
|  Cattle |  Y | Y | Y | Y |
|  Flags |  Y | Y | Y | ? |
|  Flags with DJ overprint |  Y | Y | Y |  Y |
The content in machines A1 and A2 changed day to day to give maximum opportunity to customers. The availability of labels is shown in Table 2 below.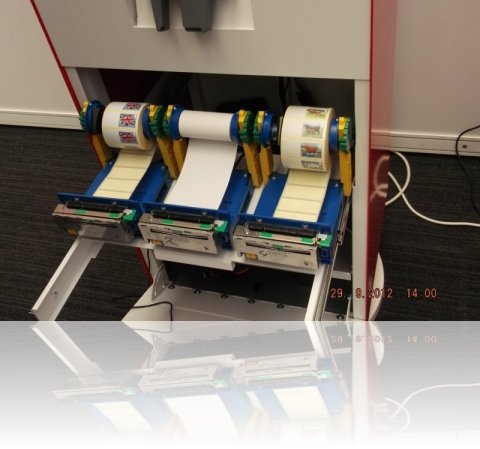 | | | | | |
| --- | --- | --- | --- | --- |
| | A1 | | A2 | |
| Wed 26 Sept | Reel A | F | Reel A | F-DJ |
| | Reel B | P | Reel B | P |
| Thur 27 Sept | Reel A | F | Reel A | F-DJ |
| | Reel B | P | Reel B | P |
| Fri 28 Sept | Reel A | C & F | Reel A | F-DJ |
| | Reel B | C | Reel B | C |
| Sat 29 Sept | Reel A | C | Reel A | F-DJ |
| | Reel B | F | Reel B | C |
P = Pigs; C = Cattle;  F = Flags;  DJ = Diamond Jubilee overprint