Two versions of Autumn 2012 Stampex Diamond Jubilee Union Flag Overprint exist!
It has been reported to me that there two versions of the 'Diamond Jubilee' Overprint exist. The first a 'Standard Version' where the two lines of the overprint are both left aligned – Shown in the top image and a second,  much rarer 'inset' version, shown in the bottom image where the 2nd 'Date' line '1952-2002'  is inset to the right by one character space.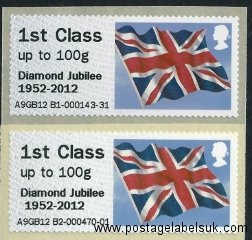 This Inset version has so far been reported from both "Back Office" machines – B1 and B2. It is believed this variation was introduced where the overprint is added and removed between prints of Cattle and Flags.  Reports of 'Inset' session numbers welcome. All those so far reported from B1 have had receipt dated on the afternoon of the 28th September 2012- so check yours!