It had to happen -Post & Go V2 produces rare birds indeed!
As the Post and Go V2 upgrade is now almost complete, those very few branches that still were using Birds 3 reels have produced a six completely new stamps- previously unissued Worldwide 40g versions of Birds 3.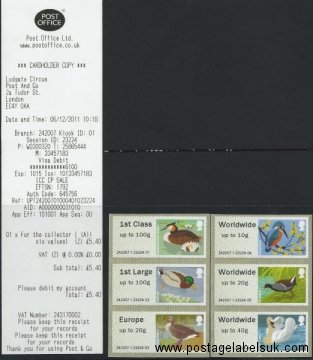 Branches that have been confirmed as producing this value from last Friday are Grimsby, Dartford, Hyde and Ludgate Circus.
This value is likely to be the RAREST of all Post and Go stamps and the KEY value of this set.

Available on Ebay here:- http://www.ebay.co.uk/itm/170744034218