Full Listing of UK Postage Label Indicators ~How big are your gaps?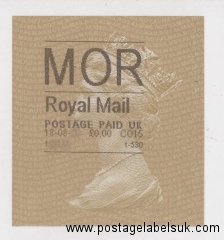 One of the most common requests I get is for a "simplified listing" of the Horizon Postage Labels currently available (as well as the ones that have been withdrawn), in order that collectors can determine how 'complete' their collections are . Shown
here
is the full list of the 29  Postage Label Indicators, showing the 22 currently being used (and so available on the two different variants of Gold Labels) as well as the 7 types that have already been withdrawn.
For each label shown there is/was a Welsh 'Bilingual' version available and two label overprint types- Thin and Thick lettering as well as two Machin gold label types (Original and the "August 10" type).
This makes 44 label overprints (22 English 22 Welsh)  in 2 print styles (Thick and Thin)  on 2 different gold Machin label types as well as the existing white labels whose stocks are currently being rundown ~ who said that 'The modern collecting alternative' of UK Postage Label collecting was boring, easy or without variation?..
Don't forget, however, that many of these labels already have a limited lifespan of future availability- The original white labels are no longer available for Post Offices to order , the 'Thick' style (From the original Horizon software) overprint only has a matter of weeks left before it is completely removed – the first variant of the Machin gold label will be not replaced and rumors of plans (apparently)  to remove some of the 'rarer' indicators before Xmas '10 have been circulated…So..fill those gaps now!