Post & Go – at the London 2010 Festival of Stamps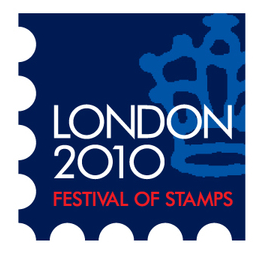 Post and Go at London 2010 International Stamp Exhibition.
The 8-day London 2010 International Stamp Exhibition featured the finest competitive exhibits from collectors around the world, plus stamp dealers, auctioneers and postal administrations, including a major presence from Royal Mail and the Post Office. This show takes place in London just once every ten years, and the 2010 show was a great success.
7th May 2010-Friday
The Post and Go Kiosk was commissioned by Wincor engineers and went in operation early afternoon and was accessible to dealers and volunteers.
First label printed was numbered 0025 – the postage labels it produced used a trial roll which is on a shiny paper the label is rectangular with rounded corners.

The inscription "ROYAL MAIL" which runs top to bottom on the left of the label is set 4 mm away (Shown on Right) and is in different format compared to the currently used on machines in UK (Shown on Left).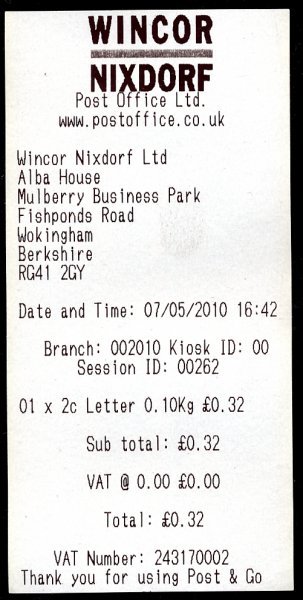 The receipt consists of WINCOR NIXDORF logo and company address of Wokingham where this prototype machine is based.
The office ID number of 002010 (which denotes London 2010 Festival of Stamps exhibition) and machine number of "0" was printed on the label.
nnn
8th May 2010 – Saturday
Machine went live to public as from 10am still producing labels from trial roll and receipt as per 004 till midday when the machine developed a problem. This was resolved by a member of Post Office staff. The machine was reset and printed receipt now had Post Office logo with Wincor Nixdorf address of Wokingham.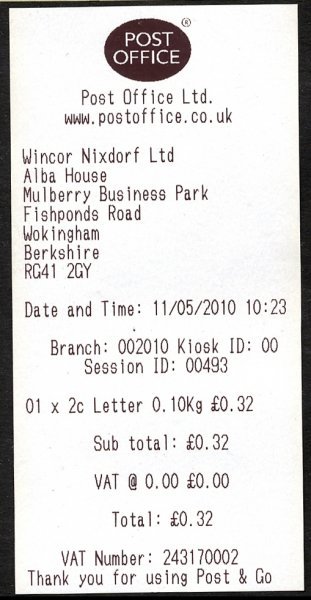 Around 2.30pm the trial roll ran out and a new roll was installed. This had standard rectangle labels with serrated top and bottom
1234567890123456789012345678901234567890123456789012345678901234567890
1234567890123456789012345678901234567890123456789012345678901234567890
11th May 2010 – Tuesday
Between 10.30 – 11.15 a member of Post Office staff decided to change the address of Wincor Nixdorf, Wokingham to read Festival of Stamps, Islington on the system.
The last label printed with Wincor address was at 10:23am and the first one with Festival of Stamps was 11.15am.