Friday, April 2nd, 2010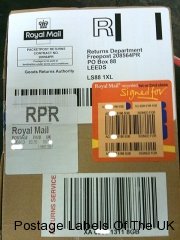 One of the rarest of the current Horizon Postage Label Identifiers is 'RPR'  – This is only ever used for items being returned under a "Packet Post Returns" Licence where exceptionally the sender has requested the 'Recorded Signed For' service – so the label only has a fixed value of 75p (74p
buy keflex
from 5/4/10) (77p from 4/4/11).
The other oddity of note is that this service results in the item having two barcodes affixed- one for the Packet Post Return Licence service and one for the Recorded Signed-For service.
This identifier was discontinued on 17th April 2011 and replaced on 18th April 2011 by the 'RSF' identifier.