Horizon Label Accounting Codes-The Definitive Guide
On Monday 29th September 2011,  two new 'accounting codes' were added to the existing printed overprint applied at the time of posting to the Horizon label.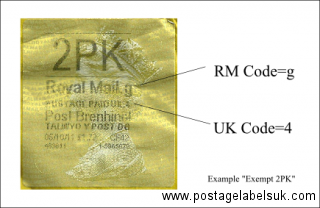 These codes are solely for the easy identification of the VAT rate/ product combination for each label, where a subsequent refund has to be made, ensuring any VAT is accounted for correctly.
There are 33 different "Royal Mail" codes and 4 different 'Parcelforce' codes- the table below shows the different codes that apply to each Label Identifier.
The 'RM/PF ' Code maps to the Indicia- The 'PPUK 'Code maps to the VAT Rate.
How do I work out what VAT is applicable to my item?
The applicable VAT rate for a particular postal item is determined by its destination.
For items being sent inland or within the EU then most items are 'Exempt' –
However, some Premium services are Standard Rate -e.g.-Special Delivery Next Day where
any 'Add-ons' are applied (Such as Saturday Guarantee) plus Airsure and Parcelforce "Express" services.
Outside of the EU then items are 'Zero' rated (including the Channel Islands).
Example codes:-
Special Delivery' – Next Day would be 'y4',
Next Day with Sat G'tee is 'y6' and
SD to Channel Islands is 'y5'
Please do not copy this information without attributing the source – Copyright Postagelabelsuk.com 2011