Machin Post and Go Faststamps Set of Five ~ For Sale~ ATM Shop
Machin Head Post and Go stamps have been dispensed from Wincor-Nixdorf kiosks in the UK since 2008.
There are two versions of the print – one printed by the kiosk at Post Offices across the UK and another press-printed version of the original font set available from the Philatelic Bureau at Tallents House in a presentation card.
The labels can be obtained with 5 different service indicators: 1st class & 1st class Large up to 100gr, Europe up to 20gr, Worldwide up to 10gr and 20gr, singly or in strips of up to 5 of the same value or various values.
For those that are printed by machine there are two further versions of the oveprint- original and updated font (see below) , for these we supply a strip of the five different values currently available in a special 'collectors strip' and offer a choice of machine code (when available) and font.
LEFT- ORIGINAL FONT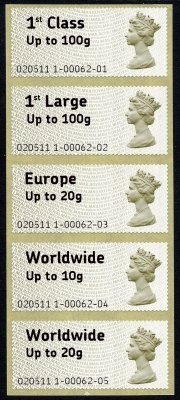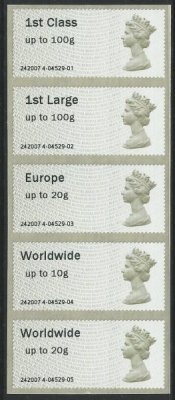 During 2009, In preparation for the pending issue of Pictorial (Birds) Faststamps some 32 Post Office branches had their kiosks' software upgraded which resulted in the repositioning and resizing of the font.
RIGHT- UPDATED FONT
Postage is FREE to all worldwide destinations~ We ship anywhere! click here to purchase ;
Click here to purchase

Select the strip required and click 'add to cart':-