Welsh Gold Machin Horizon Label~FDC 20th April 2010
It has now been confirmed that the First Day of use of the Gold Horizon Labels in Wales was yesterday, April 20th 2010.
 Some branches having received their stock yesterday and all others in Wales receiving it  today.
Shown below is a FDC produced yesterday 'machined' (sic) into an inch of its life by the Cardiff FCT.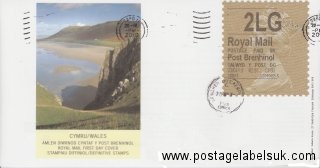 Please contact me if you would like to purchase a similar cover.